The Island Corsica - Île de Beauté
Geography
Corsica, with 8 720 km2, is the third island in the Mediterranean. It is also the most mountainous (average of 560 m) with twenty peaks over 2500 m. Monte Cintu at 2.710 metres is the highest peak. Corsica is 180 km long and 85 km wide; there is 1 000 km of coast.
Corsica is situated at 160 km from the French coast and 80 km from the Italian coast. In the extreme South one is nearer to Tunis then to Lyon. The Straits of Bonifacio separate the islands Corsica and Sardinia.
Climate
Corsica is situated in the Mediterranean Sea at a latitude of 41° north and a longitude of 9° east. The island enjoys a pronounced Mediterranean climate: hot summers and only moderately cool winters.
Climatic conditions vary greatly from region to region, depending upon elevation. It is, for example, very well possible to sit in the hot sunshine on the coast in April, while there is still snow in the mountains.
There are about 95 days of rain in Corsica (on average), with only a small proportion of these falling between June and October. Storms occur more on the west coast and in the mountains.
Winds


Sirocco, blows in from the south-east bringing desert sand from the Sahara with it.

Maestrale, blows from the north-west, coming from the Rhône Valley.

Tramontana, blows from the north, from the cold plains of the Po. The name indicates "from across the mountains".

Gregale, brings rain during the winter from the Apennines.

Levante, blows directly from the east.

Ponente, blows directly from the west.

Libecciu, crosses the entire western Mediterranean coming from Gibraltar.

Mezzogiorno, this wind blows at noon. the breeze gets up at about nine o'clock, after the land mass has heated up faster then the sea.

Terrana, this land breeze blows after sunset, reaching its climax at midnight.

Habitants
Corsica counts 330 455 habitants, according to the latest census in 2016, and is the less populated region of France.
Haute-Corse counts 176 152 habitants, Corse-du-Sud 174 553.
Ajaccio-city counts 70 063 citizens against 45 596 for Bastia.
Porto-Vecchio has 12 121 habitants. Borgo 8 802, Biguglia 8 750, Corte 7 844, Calvi 5 486, Furiani 6 315, Lucciana 5 879 and Ghisonaccia 4 353 .
Erone, with only 10 habitants, is the smallest community of the island.
The interieur has a density of 10 habitants per km2.
Many Corsicans have left the island for the mainland of France for economic reasons; that's why more Corsicans live abroad then on the island.
The estimate is that 700 000 Corsicans have emigrated, of which 500 000 to the mainland. In 1955 was the lowest count: only 170 000 people living on Corsica. About 22 000 live on Corsica (8% of the total of inhabitants). These are Maroccans, Italians, Portuguese, Tunesians and other groups from North-Africa, the so-called "pieds noirs", who came back after the Algerian war in 1962.

Erone, plus petite commune de l'île
ne compte que 10 habitants (2017)
Transhumance

François Desjobert

Avec ce nouvel ouvrage, il entre un peu plus dans l'intime des êtres et l'authenticité passionnante des sujets qu'il sélectionne.
Les images semblent simples, elles sont l'aboutissement épuré d'une vie consacrée au regard sur un monde où l'homme et la Corse tiennent le premier rôle.
François Desjobert nous emporte dans une histoire faite d'allégresse et d'authenticité évanescente.
www.boutique-souvenir-corse.com
credit photo's © François Desjobert
Corsica is a land of shepherds. Within living memory the shepherds are adapted to climatic conditions and the mountains of their region. In winter, during the cold and the snow, they guide their flock towards the coast; in summer, when there is drought and heat (and paludism?), they return to higher pastures. There, in the traditional way, they make the cheeses and the famous, delicious brucciu. A muntagnera, at the beginning of July, marks the start of the transhumance of goats and cows to the higher pastures where they will stay for three months.
Every hamlet in the mountains "owns" a "beach"; that is to say a territorium at the seaside. The paths of the transhumance find themselves between these two portions of territorium. The shepherds of the Niolu for example take the long route by descending into the Filosorma (hinterland of Galeria) or go all the way to the Balagne.
The ways of the transhumance from the "beach" to the mountain-hamlets are marked with bergeries, drystone-walled simple houses or sometimes just a refuge under a rock. Many of these bergeries still exist and are in use today.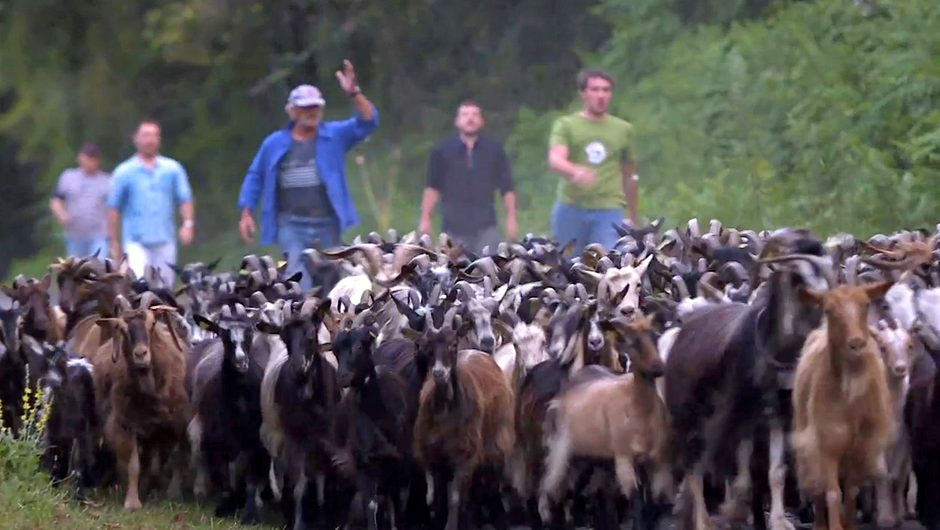 transhumance
Genoese towers - Tours Genoises
The Genoese towers in Corsica (French: Tours génoises de Corse, Corsican: Torri ghjinuvesi di a Corsica) are a series of coastal defences constructed by the Republic of Genoa between 1530 and 1620 to stem the attacks by Barbary pirates.

Corsica had been controlled by the Genoese since 1284 when they established their supremacy over the Pisans in the naval Battle of Meloria. Towards the end of the 15th century the Ottoman Turks expanded their control of the Mediterranean westwards and became a dominant maritime power in the region. In 1480 they sacked Otranto in southern Italy and in 1516 they took control of Algiers. In the first decades of the 16th century Turkish corsairs in galleys and fustas often rowed by Christian slaves began attacking villages around the Corsican coastline. Many hundreds of villagers were captured and taken away to be sold as slaves. The Genoese Republic responded by building a series of towers around the coastline. Most of them were built to a similar circular design with a roof terrace protected by machicolations. Nearly one hundred were constructed before the Genoese decided in around 1620 that they were unable to defend the island and abandoned the building program.

The construction of these towers started in the 16th century, at the request of village communities to protect themselves against pirates. In 1531, the Genoese Bank of Saint George sent two extraordinary representatives, Paolo Battista Calvo and Francesco Doria, to inspect the fortifications defending the island from the Barbary corsairs. In 1531, the construction of ninety towers on the Corsican littoral was decided, thirty-two of them in the Cap Corse.

The ruined Genoese towers are now a prominent feature of the Corsican coastline. Many have been listed as official Historical Monuments.

Source: fr.wikipedia.org
Getting to Corsica
Airports
Ports

Port d'Ajaccio
Tél. : 04 95 51 55 45
Website


Port de Bastia
Tél. : 04 95 55 25 15
Website


Port de Bonifacio
Tél. : 04 95 73 06 75
Website


Port de Propriano
Tél. : 04 95 76 21 51
Website


Port de Porto-Vecchio
Tél. : 04 95 70 49 49
Website


Port de l'Ile-Rousse
Website
Distances en temps

Les distances sont indiqués en temps pour des déplacement en voiture.
En effet, les kilomètres ne signifient que peu de chose lorsque qu'on roule sur des petites routes sinueuses.

Distances are indicated in time for travelling by car. Kilometers do not mean much when driving small winding roads.
Campings à la Ferme
Gîtes, hotels, chambres d'hôtes
Le "paesolu" est composé de cinq gîtes indépendants construits dans le style des bergeries et maisons de Castagniccia.
C'est un centre d'Eco-Tourisme qui se veut avant tout un lieu de repos et de détente. Niché dans une pente boisée, il offre une vision ombragée sans pollution paysagère jusqu'à la mer.
Le Paesolu respecte l'environnement car il est bâti selon les techniques de l'habitat écologique.
Nous pouvons accueillir des familles ou des groupes et vous conseiller de multiples lieux de visites et de randonnées.
savoir+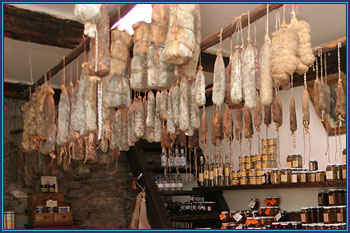 Casa di Cornu
Casa Valentini - Gîte en Corse
Gîte 3 épis "gîtes de France".
C'est une maison individuelle en pierre, avec plafond et poutres en châtaigner. La chambre la plus vaste est un ancien séchoir à châtaignes.

Casa Guidici - Gîte en Corse
savoir+
Chambres d'hôtes - Le Venaco

Jocelyne & Luc FIGHIERA
Route de Lugo - U Fiume
20231 Venaco
Pendant votre séjour chez nous, vous pourrez profiter de 2 terrasses, ainsi que de jardins ombragés, les chambres sont toutes équipées de wc-douche-lavabo, ainsi que d'une télé et d'une connection internet.
Nous vous accueillerons autour d'un verre de l'amitié, afin de faire connaissance avec votre logis, et, vous donner quelques trucs sur votre séjour.
savoir+
Chambres d'hôtes - Casa Corsa

Casa Corsa
Acqua Nera - Prunete
20221 CERVIONE
Bienvenue sur le site d'Anne-Marie et Jean-Jules DOUMENS !
savoir+
Chambres d'hôtes - A Tana di Scopa, Pietra Stretta

A Tana di Scopa, Pietra Stretta - Sainte Lucie de Porto-Vecchio
Situé dans un cadre agréable, au calme, proche de la rivière et des magnifiques piscines naturelles du cavu, à seulement cinq kilomètres de la mer et quarante minutes de la montagne, A Tana di Scopa, Pietra Stretta vous accueille tout au long de l'année. Venez profiter de la quiétude de l'endroit et vous imprégner de notre magnifique région. Entourés de verdure, nous serons ravi de vous accueillir dans l'une de nos trois chambres d'hôtes, au sein de notre belle maison de caractère…
savoir+
Cap Corse / Nebbio / Balagne
Le Centre
La Côte Oriental / Castagniccia
Le Sud
Gîtes et chambres d'hôtes
Au village de Patrimonio, à 15 km de Bastia, à 4 km de Saint-Florent
et à 3 km de la plage.

Activité:
Cours de chant polyphonie corse
et chant du monde
Activity:
Courses in corsican polyphonic singing and world-music singing

CHAMBRES et TABLE d'HÔTES - RELAIS EQUESTRE

En pleine montagne Corse, à 1360 Mètres d'altitude, située sur le GR20, à 15 Km de Zicavo, accessible par la route, la Bergerie de BASSETA vous accueille.
BERGERIE DE BASSETA
Villa's, appartments, studio's, residence de vacances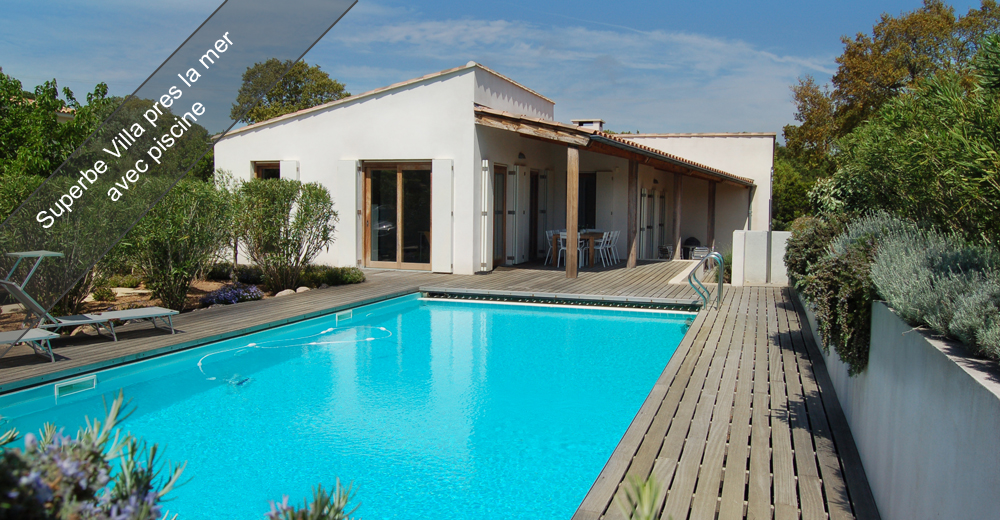 location: Villa "Coucou Les Amis", Capicciola, Pinarellu, Corse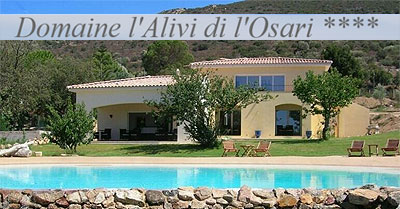 Domaine L'Alivi di l'Osari
Lozari - 20226 Belgodère
Tél : +33(0)616078355 ; +33(0)618625525
Email : domaine.alivi@gmail.com

Casa Aspettami
Allée des Châtaigniers 40
F-20213 Folelli - Haute Corse (France)
goossens.herman@hotmail.com
+32 475 89 97 82

Valinco Village,location d'appartements Porto Pollo
Les Brises de Mer, Suite & Résidence - 20230 Santa Lucia di Moriani
Le Clos des Arbousiers - Costa Serena, Marine de Bravone
Campings
Camping à la ferme
Fermes-équestres
Locationcorse.net
Marina di Santa Giulia
Résidence Belvédère de Palombaggia
Pitrera Village
CorsicaCamping
Azurever region Balagne
www.hotelscorse.com
Destination Corse
Aller en Corse
Pour les Vacances
Location en Corse
Homelidays
Abritel Corse
Residence Lauriers Roses
www.housetrip.com (Popular rentals in Corsica )
Aqua è Sole Sainte Lucie de Porto-Vecchio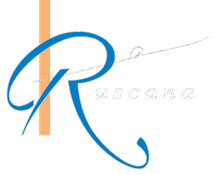 Résidences A Ruscana

Maisons de vacances sur casamundo.fr
Offices/agences de Tourisme

Maisons d'Information Parc naturel régional

haut de page
Gîtes d'etappes
Useful information:

Telephone numbers, email adresses and other useful information for the gîtes of the Mare e Mare's/Monti's.

Click here (PDF)
For all the "gîtes d'etappes" it is recommended to make reservations, especially in the tourist season
| La Grande Randonnée GR20 | Dénivelé |
| --- | --- |
| 01. Calenzana - Ortu di u Piobbu | +1431m, -193m, 6h30 |
| 02. Ortu di u Piobbu - Carozzu | +703m, -981m, 7h |
| 03. Carozzu - Ascu Stagnu | +825m, -673m, 6h |
| 04. Ascu Stagnu - Tighjettu | +1061m, -790m, 6h |
| 05. Tighjettu - Ciottulu di I Mori | +712m, -411m, 4h |
| 06. Ciottulu di i Mori - Manganu | +900m, -1300m, 8h |
| 07. Manganu - Petra Piana | +880m, -643m, 6h30 |
| 08. Petra Piana - L'Onda | +490m, -900m, 5h |
| 09. L'Onda - Vizzavona | +711m, -1221m, 6h |
| 10. Vizzavona - Capanelle | +890m, -224m, 5h30 |
| 11. Capanelle - Prati | +840m, -580m, 6h00 |
| 12. Prati - Usciolu | +677m, -747, 6h |
| 13. Usciolu - A Matalza | +380m, -640, 4h25 |
| 14. A Matalza - Asinau | +850m, -1065m, 8h |
| 15. Asinau - Paliri | +950m, -1400m, 7h |
| 16. Paliri - Conca | +120m, -930m, 5h |


A partir de mai 2009, les randonneurs devront réserver les nuitées (refuge et bivouac) avant d'emprunter le GR 20.
From May 2009, hikers will have to book their overnight stay (refuge and bivouac) before taking the GR20.
see Parcu di Corsica
Reserver votre refuge
Le GR20 s'est agrandit.
Une étape supplémentaire entre Usciolu et Asinau vous permettra de découvrir le plateau du Cuscionu.
Pour plus de renseignements,
clicquez ici
Cirque de la Solitude
Suite au tragique accident qui a eu lieu le 10 juin 2015 sur l'étape Ascu-Tighjettu, au niveau des
Cascettoni
ou
Cirque de la Solitude
et qui a coûté la vie à 7 randonneurs, ce passage est actuellement toujours interdit d'accès.
A partir de la saison 2016, l'itinéraire du GR20 sera définitivement modifié sur cette étape.
Il sera remplacé par la variante mise en place en juin 2015 et alors balisée en « double jaune ».
Cette variante par Bocca Crucetta deviendra le GR20 officiel et sera balisée en « rouge et blanc »
dès le début de saison par l'équipe montagne du PNRC, alors que
l'itinéraire originel par le Cirque de la Solitude sera débalisé et complètement déséquipé de ses chaines et échelle
.
A partir de cet été,
le GR20 officiel passera donc au pied le Monte Cintu
, point culminant de l'île à 2706m, via E Ghjarghje Rosse (la Pointe des Éboulis) et Bocca Crucetta, par un itinéraire de toute beauté. Vous pouvez voir l'itinéraire noté en rouge sur la carte ci-dessous. Moins vertical que le Cirque de la Solitude, cet itinéraire reste cependant difficile et sportif.
La distance et les dénivelés sont supérieurs à l'itinéraire originel.
Certaines portions techniques ont été sécurisées par des chaines pour aider la progression.
Le risque de présence de névés en début de saison est aussi plus important en raison d'un point culminant plus haut (2600m au lieu de 2200m) et de son exposition Nord. Les arrêtés d'interdiction devraient être prochainement levés et le passage du Cirque de la Solitude ne sera plus interdit.
Mais,
attention
! Son accès sera très difficile car le matériel de sécurité ne sera plus en place.
Si vous souhaitez emprunter cet itinéraire, vous devrez installer votre propre matériel d'alpinisme pour passer les passages qui étaient équipés.
Ne vous y aventurez surtout pas sans matériel de sécurité !
Prenez le temps de lire nos conseils pour
bien préparer votre GR20 ou consulter www.le-gr20.fr
.
Nouveau tracé du GR20 entre Ascu et Tighjettu
A partir de la saison 2016, et suite à l'accident qui a eu lieu dans le Cirque de la Solitude en juin 2015, le tracé du GR20 va être modifié entre les refuges d'Ascu et Tighjettu. Il empruntera dorénavant la variante balisée l'été dernier qui deviendra le tracé officiel, en rouge et blanc, dès le mois de juin.
Un itinéraire magnifique qui nous fait découvrir la face Nord du Monte Cintu.
Superbe traversée en crête des Ghjarghje Rosse (Pointe des Eboulis) à Bocca Crucetta. Vues impressionnantes au Nord sur les principaux sommets de la vallée d'Ascu, l'arête de la Punta Minuta et les premières étapes du GR20 jusqu'au Capu Ghjovu et la baie de Calvi.
Panorama grandiose vers le Sud sur toute la dorsale de l'île et ses principaux sommets, jusqu'à l'Alcudina et même la Sardaigne par beau temps !
2 jolis lacs au programme : le lac d'Argentu en face Nord et le lac du Cintu en face Sud. Et la possibilité de faire au passage l'ascension du Monte Cintu, le toit de la Corse, qui culmine à 2706m. Que demander de plus ? Un itinéraire splendide dans une belle ambiance de haute montagne !
Le cirque de la solitude à nouveau accessible
Depuis 2015 et l'éboulement qui a coûté la vie à sept randonneurs, le cirque de la solitude gardait portes closes.

Gérard Gavory, préfet de la Haute-Corse entouré des équipes du bureau de recherches géologiques et minières (BRGM), de maires du rural et Jacques Costa, président du parc régional de la Corse a changé la donne.
Dans les salons de la préfecture, loin de l'altitude de la montagne et de la nature, le représentant du gouvernement l'annonce solennellement : "Nous levons l'interdiction d'accéder au cirque de la solitude pour rendre cet espace libre de haute montagne."
Article Corse Matin Corse Matin du 14 juin 2018
France3Via Stella: Le cirque de la solitude à vos risques et périls
Les refuges

Ortu di u Piobbu
C'est le premier refuge que l'on croise au départ de Calenzana.
Alt 1520m.

Carozzu
Le refuge de Carrozzu est le deuxième refuge du GR20 nord (au départ de Calenzana). Il est situé à 1270m d'altitude

Ascu Stagnu
C'est plus qu'un refuge. C'est une (ancienne) station de ski, désservit par la route. Vous y trouverez restaurants, hôtel et refuge

Tighjettu
4e refuge du gr20 dans le sens Nord-Sud

Ciuttolu di I Mori
Situé à 1991m d'altitude,
ce refuge offre une vue imprenable sur la vallée.

Manganu
Le refuge de Manganu est situé à 1600m d'altitude, au pied de la brêche de Capitellu, point culminant du GR20).

Petra Piana
Refuge situé en plein milieu de la descente de la Bocca Muzzela. Bon emplacement pour démarrer
l'ascension du Monte Ritondu,2e sommet de la Corse

Onda
Le petit refuge de l'Onda
se situé à 1430m d'altitude.
Une grande aire de bivouac est aménagée.

Vizzavona
ll s'agit d'un village étape avec hôtels, refuge, commerces.

E Capannelle
Capanelle est le nom d'une ancienne bergerie, qui sert donc de refuge sur le GR20 mais c'est également une station de ski

Prati
Situé à 1820m d'altitude. Détruit par la foudre, il a été entièrement reconstruit et réouvert en 2000

Usciolu
Le refuge est adossé aux flancs de la montagne et il offre une vue magnifique sur la vallée et les aiguilles de Bavella

Matalza
GR20 créé en 2011/2012 suite à la naissance d'une nouvelle étape entre Usciolu et Asinau

Asinau
Situé à 1530m d'altitude

Paliri
Premier ou dernier refuge du GR20, à quelques heures de marche de Conca
Websites about the GR20:

Weather forecast: 08 36 68 02 20
Maison du GR20: 20214 Calinzana 0495 62 87 78
Maison du Parc Naturel Régional de Corse
2 rue Casalonga B.P 417 20184 Ajaccio 0495 51 79 00
Maison d' information de Corti (summer)
La Citadelle 20250 Corti 0495 26 15 14
Trains
The nickname of Corsica's only railway is "TGV-Train Grandes Vibrations"; the Corsicans call their "little train" affectionally "Trinighellu". Sometimes it happens that the train has to stop to remove a cow from the rails or the engine breaks down before it is within eyesight of a station and has to be push-started to get it going again. This makes a journey with "Trinighellu" all the more folkloric.
What about the new train?
The route from Bastia to Ajaccio runs through a breathtaking lovely region with magnificent views. The train goes through 43 tunnels, hewn in the solid rock, and crosses the impressive Vecchio Bridge. This viaduct, designed by Gustave Eiffel, is 140 meters long and spans the mountain torrent at a height of some 100 meters.
Between Ponte Leccia and Bocagnano the scenery is spectacular. The journey takes about three and a half hours and is an excellent way to discover the different landscapes.
In Ponte Leccia a branch leads to l'Île Rousse and Calvi. Each route has one train a day in both directions.
Between Calvi and l'Île Rousse runs a local service "le petit tramway de Balagne".
Timetable - Horaires
| | |
| --- | --- |
| | |
Tour de France 2013
To launch the hundredth edition of the Tour in a memorable, exceptional and spectacular way, Corsica has hosted the race start, a first in its history.
1st Stage - Saturday 29th June - Porto-Vecchio > Bastia : 200 km
2nd stage - Sunday 30th June - Bastia > Ajaccio : 155 km
3rd stage - Monday 1st July- Ajaccio > Calvi : 145 km


le Tour de France dans les Calanches