Rural fairs, markets, cultural - and religious celebrations
JANUARY
Market in Poggio Mezzana from 09h00 - 13h00
Every Sunday photo mairiepietradiverde.fr


Ile Danse: festival of Mediterranean Dance.
Winegrowers festival: organized by the Winegrowers Union, Ajaccio.
FEBRUARY
A Fiera di A Tumbera - Renno first weekend of February
Pigs are the stars of this traditional fair, together with the various ways they are used in Corsican Cuisine...
The fair features cooking competitions and demonstrations.Tel :04 95 26 65 35
A-TUMBERA-DI-RENNU
Les Agrumes en Fête
Fête des Agrumes de Bastelicaccia. L'édition 2020 des Agrumes en Fête se déroulera les 15 et 16 Février 2020 à la salle des fêtes de Bastelicaccia.
http://www.fetedesagrumes.com/
MARCH
A MADUNUCCIA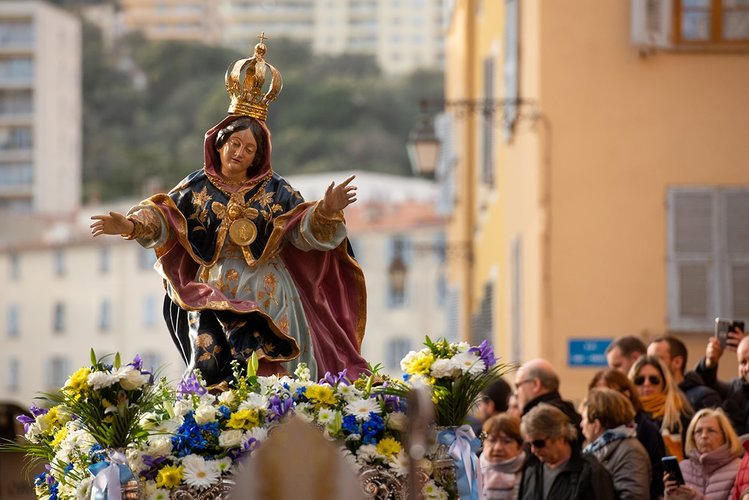 Comme tous les ans, le 18 mars, les Ajacciens se retrouvent pour fêter la Madunuccia, afin de remercier Notre Dame de la Miséricorde d'avoir sauvé la ville de la peste en 1656.
L'occasion de se recueillir autour de Notre Dame-de-la-Miséricorde. Une fête de l'espérance qui réunit les Corses, qu'ils soient croyants ou pas.


Like every year, on March 18, the Ajacciens meet to celebrate Madunuccia, to thank Our Lady of Mercy for having saved the city from the plague in 1656.
The opportunity to gather around Notre Dame-de-la-Miséricorde. A celebration of hope that brings together Corsicans, whether they are believers or not.


SAINT JOSEPH

Comme chaque 19 mars, les Corses ont célébré la Saint-Joseph. Une cérémonie religieuse très importante, qui est aussi l'occasion de déguster les traditionnels panzarotti.


Easter Holy Week - A Semana Santa
Holy Week Processions:
The most famous ones are at Bonifacio and the Catenacciu in Sartène.
The Holy Week is also celebrated in: Calvi, Corte, Erbalunga, the Castagniccia and Bastia.
A Passione:
Holy Week is the time for a great spectacle at the Oratoire Saint- Antoine in the Corsican language retracing the Passion of Christ
U Svegliu Calvese - A Filetta , Calvi. Tel: 04 94 65 23 57.
Email : svegliu@aol.com
U Catenacciu - Sartène Vendredi Saint
The most famous of the Good Friday processions. A shackled penitent, wearing a cowl and carrying a cross, walks a steeply sloping route through the town, symbolising the stations on the cross.
Only the parish priest knows the penitent's identity.
Sartène « Perdono Mio Dio » pour le Catenacciu
Le "Catenacciu" (de catena, chaîne en latin) est une tradition corse principalement Sartenaise
qui se déroule lors de la procession du Vendredi saint. Le "Catenacciu" effectue un chemin de croix
à travers le village, et symbolise la montée du Christ au calvaire.
LA CONFESSION DU PÉNITENT ROUGE
The processions in the Easter Holy Week
A Granitula - Calvi Vendredi Saint

The brothers of the orders of Saint Antoine and Erasmus, dressed as cowled, barefooted penitents, march in procession through the town and into the citadel courtyard.
A Granitula, a symbolic, penitential procession, describing a coiling and uncoiling spiral, is repeated at various points along the route.

Procession of the Five Orders - Bonifacio Vendredi Saint
Each brotherhood carries relics and statues of the Saints sculpted on wooden shrines in the Baroque style which are lit with torches and lanterns. Traditional chants and pagan rituals enhance the mystical feature of these processions.
>
Procession of the "Black Christ" - Bastia Vendredi Saint
Cowled penitents process through the streets of the Citadel.



Orthodoxe Easter celebrated at Carghjese




Porto Vecchio




Corte
A Merendella in Castagniccia
This fair takes place at Piedricroce at Easter selling local products.
Tel: 04 95 35 81 26.
APRIL
Cheese and Wine day - Cauro
South Corsican wines and cheeses are offered for tasting and sale on the second sunday in april each year on Cauro's village square. Brocciu fans can watch cooking demonstrations and enjoy a smorgasbord of pastries and prepared dishes.
Brocciu Open Days - Piana
"Brocciu" - type of cheese produced from sheep's or goat's milk). As its name indicates, lectures, exhibitions, demonstrations of its production and finally tasting one of the best regional products all form part of this day in its honour. The organisers of this event are also able to conjure up the shepherds' trails and enchant spectators with recitals of pastoral tales and legends. Tel: 04 95 27 82 05
Fiera in castagniccia - Piedicroce:
Tradition oblige, la merendella en Castagniccia pour le week end de Pâques est devenue un rituel. Chaque année, une foire est organisée au village de Piedicroce. Producteurs de charcuterie, de fromages, couteliers, créateurs de bijoux et autres artisans… seront ravis de vous dévoiler leurs différents produits. Le dimanche de Pâques, la messe est célébrée en langue corse.
Merendella in Castagniccia for the Easter weekend has become a ritual. Every year a fair is organized at the village of Piedicroce . Charcuterie producers , cheeses, knife makers , jewelry designers and other craftsmen ... will be delighted to unveil their various products .
On Easter Sunday , Mass is celebrated in Corsican language .
A Festa di l'Oliu Novu
Santa Lucia di Tallà, reconnue pour la qualité de son huile d'olive et le dynamisme de ses oléiculteurs, célèbre, depuis 1996, l'arrivée de l'huile nouvelle.
A Festa di l'Oliu Novu
Sainte-Lucie de Tallano Tel: 04 95 78 80 13.

Association "A fiera di u casgiu"
Le Château 20231 VENACO
Tél. : 0495471519 - fiera-di-u-casgiu@orange.fr

MAY
Fiera di A Casinca San Brancà
Foire traditionnelle corse très ancienne qui se déroule sur la commune de Castellare di Casinca, sur le parvis de l'église St Pancrace.
Pour l'édition 2022, on se retrouve du 12 au 15 mai
Nautival: festival with sea as theme, at the end of May in Macinaggio. Tel: 04 95 35 40 35.
Foire A Gravona - Ucciani
Artisanal and pastoral fairs being held in the valley of Gravona, the village of Ucciani.
Fireworks festival - Calvi
Firework teams will take it in turns to set the sky alight over Calvi.
Festival des 3 cultures - Calvi
4 days in May during the weekend of 'la Ascension'. Association F3C Calvi : (0033) 04 95 65 01 07
Nautival Maritime festival - Macinaggio
This event is a celebration of all aspects of the sea, providing the central theme for the participating sailors, craftsmen, collectors, painters, photographers, authors, etc. Nautival is held at the marina, with shows(e.g.balls, concerts, etc.), taster courses in water sports and marine leisure pursuits, conferences and exhibitions, plus tasting sessions, walks along the "customs officers' trail" and boat trips. The celebration is rounded off by a boat blessing ceremony and a torchlit procession in honour of the Virgin Mary.
Festimare festival of the sea - Ile Rousse
This unsual event brings together the educational, business, industrial, sporting and cultural worlds around the Central theme of the sea. Festimare takes place on Place Paoli in the town centre, with activities including: -Fun, educational children's workshops on various themes linked to the sea; - Debates and conferences, exhibitions and maritime leisure activities (regattas, gatherings of yachts and vintage rigged vessels, diving courses, etc..)over the three days of the festival.
Les Régates Impériales Ajaccio
JUNE

A Fiera di u mare: Solenzara et la Foire de la mer.
Saint-Erasme:
Blessing of fishing boats, 2nd of June in Ajaccio, Bastia and Calvi.
For the last few years, an association formed by the town's fishermen has organised two days of Saint Erasmus festivities, the highlight being a feast of grilled freshly caught fish served against the picturesque backdrop of the "Tino Rossi" marina located at the foot of Ajaccio's citadel.

Cavall' in Festa Horse Festival - Corte
As the regional horse-fair, Cavall'in Festa is an unmissable event for the equestrian and farming communities. Riding shows and demonstrations, children's activities, horse rides, traps and carriages, trick riding and dressage naturally all feature on the programme. Presentation and sale of equines.
Internet: Cavall' in Festa

San Ghjuva - Corte
Every year, a day of cultural exchanges is organised for the feast of Saint John, focusing on traditional Corsican poetry and music.
Corte's 15th century citadel and the Musée de la Corse museum provide and outstanding setting for this special day, wich will continue late into the night at the Sermanu centre of traditional music.

Fête de la St. Jean de Bonifacio: Procession in the old center of the town. (24 June)

Kyrnéa Jump: a competition in Bastelicaccia (near Ajaccio), with the participation of the most reputed horsemen. Tel: 04 95 22 28 35.

Raid nature aventure: canoe, mountain bike, climbing, sailing, in Ajaccio for youngsters in the age from 14 - 18.

Venetian week in Porto-Vecchio

Story-telling night - Vero
"La nuit du Conte" was inaugurated in 1993 to revive the art of storytelling, providing a forum for meeting people and for self-expression. Gathered together in natural surroundings, in public squares ressembling amphitheatres that are accessed through narrow, candle-lit streets, the audience listens to amateur and professional storytellers weave their magic with nothing more than their voices. Thus begins the ritual, set between water and fire in the heart of the village, on this companion evening to the feast of Saint John...


FIERA DI A CACCIA E DI A PESCA
Notre foire a pour but de faire connaître notre passion pour la chasse et la pêche.
The aim of our fair is to show our passion for hunting and fishing.
Last weekend of June in Ponte Novu
www.fiera-caccia-pesca.fr


JULY
Market on the Col d'Arcarota
Every Sunday in July and August.


Sunday market at the Col d'Arcarotta

A festa di u legnu è di a furesta à Vezzani

En Corse, les forêts sont un véritable trésor de biodiversité. La présence de nombreux élus territoriaux lors de l'inauguration de la fête atteste de l'importance donnée à la filière bois dont Vezzani se veut être l'ambassadeur.

Estivoce - Pigna
With Pigna as the focal point, the picturesque villages of Balagne play host to the various evening performances of the Estivoce festival. Singers from Corsica and across the world accompany teathre and dance performances. This is a celebration of song down the ages and through changing musical tastes.
e-mail : festivoce@casa-musicale.org
Website: festivoce.casa-musicale.org

Wine Fair - Luri - Fiera di u Vinu - 11 and 12 July 2015
The Cap Corse region has a strong wine-growing tradition, and the reputation of certain vineyards extends beyond the region's borders. Winegrowers from every region of the island invite the public to taste fragant whites, rosés, reds and muscats at this fair. Visitors will also find a range of authentic craft products and foodstuffs.
Festi Lumi Bonifacio

Depuis plusieurs années, Bonifacio propose l'un des événements les plus importants et éblouissants de la saison touristique : FESTI LUMI, festival où le patrimoine bonifacien se révèle autrement. Nous vous donnons rendez-vous début juillet pour un programme autour d'une valorisation originale et audacieuse du patrimoine de Bonifacio.
For several years now, Bonifacio has been offering one of the most important and dazzling events of the tourist season: FESTI LUMI, a festival where Bonifacio's heritage is differently shown ...
We invite you to come early July for a program around an original and bold valorization of the heritage of Bonifacio.
voir aussi - see also www.bonifacio.fr
The changing of the Governors - Bastia
Historical spectacles recalling the arrival of the Genoese governor in Bastia, capital of the Kingdom of Corsica. The new governor is accomodated with the old port and passes through the streets of the old town to the square where the keep stands. The Governor is then invested with the outgoing official's authority. A demonstration of flag twirling and drumming accompanies the 150-strong procession, and there are impressive spectacles in the Vieux Port and on the Place du Donjon.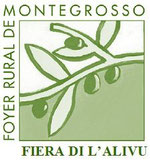 Fiera di l'Alivu - (Balagne) www.foiresdecorse.com/fiera-di-l-alivu
Every year mid july , the "Fiera die l'Alivu" attracts almost 10.000 visitors to a splendid olive grove on the slopes of Monte Grosso. The olive tree fair views itself as a celebration of local heritage, and offers a relaxed mix of exhibitions, meetings with artists, a children's fete and a delicious array of the flavours, aromas and colours. The fair is one of only 100 sites to have been awarded the title "Site remarquable du goût" by France's culinary arts council.


Pratu Summer Fair-"A Bocca di U Pratu" - Quercitello
This traditional rural fair is held on the Col du Pratu (last weekend of July) , on the road into Castagniccia, a rural area with a strong regional identity.
The fair includes cattle shows and a produce exhibition. The cultural aspect is enhanced by Paghjelle and Chjami è Rispondi (sung oral jousting) competitions and polyphonic singing.
FIERA DI A BOCCA DI U PRATU
Grand raid inter-lacs: mountain running race around the most beautiful lakes at Corte. Tel: 04 95 46 12 48.

Méditéranean trophy: sailing competition; departure and arrival takes place in Corsica. Tel: 04 95 23 89 00.

Nights of the Guitar - Patrimonio
20 au 27 JUILLET 2020
The unusual feature of this event, staged in Patrimonio's marvellous open air theatre, is that it hosts an electic line-up of guitar virtuosos. For the last 25 years, these Guitar Nights have blues, flamenco, gipsy, rock, tzigane, tango...and classical music.
Internet: www.festival-guitare-patrimonio.com

Summer in Ajaccio: festival of music and dance, at the end of July and beginning of August. Tel: 04 95 50 40 80.

Festa di u Mare: cultural and sporting events on the theme of the sea at Santa Severa, Marina of Luri. Tel: 04 95 35 0644.

Fiera di San Petru di Lumio - Lumio
Craft fair exclusively for produce having a regional identity. Over the two days, numerous activities are on offer for visitors, including guided tours of various sites in the region, a sculpture competition, Chjami è rispondi (traditional oral jousting), a treasure hunt, children's entertainement and music evenings.
A Tribbiera - Vallecalle
Les passionnés de ce petit village du Nebbio font revivre chaque année à la même époque, cette technique ancestrale de battage du blé.
A l'aide de boeufs tractant une lourde pierre, ils séparent ainsi le grain de l'épi.
In the small village of Nebbio revives each year at the same time (mid July), this ancient technique of wheat threshing.
With the help of oxen pulling a heavy stone, the chaff is seperated from wheat.


AUGUST
Fiera di Nuciola Cervione.
Destination hazelnut: a gastronomic, cultural and musical event based on the promotion of hazelnuts in the village of Cervione.
Les deux journées "destination noisette" se veulent être la vitrine de la filière. Elles s'inscrivent de fait pour soutenir l'objet même de l'association organisatrice, c'est à dire la mise en oeuvre d'actions pour la culture, la promotion et la valorisation de la noiseraie et de la noisette sous l'appellation unique "noisettes de Cervioni".
Il s'agit en effet de resituer cette culture dans son contexte historique et contemporain et de dynamiser toutes les qualités gustatives et énergétiques du petit fruit sec.
Durant ces deux journées on peut retrouver tous les acteurs de la promotion de la noisette corse (cultivateurs, commerçants, artisans d'art, chefs cuisiniers ...) ainsi que des animations diverses (groupes folkloriques, chants corses, spectacles de rue, expositions...).
Renseignements concernant les journées de la noisette : Fiera di a Nuciola - place de l'Eglise - 20221 Cervione
Association : A Nuciola
Président : Charles Sforzini
Contact : 04 95 38 12 83
Tél : 04 95 38 10 28
Tél. : 06 73 69 88 30 (organisateur) Voce Nustrale (ADECEC) 04.95.38.12.83 ou encore en envoyant un e-mail nuciola@fr.fm

Pilgrimage of Our Lady of the Snows - Bavella
Pilgrimage of Notre Dame des Neiges (Our Lady of the Snows) in a magnificent pine forest at the foot of the famous "Aiguilles de Bavella", 10 kilometers from the village of Zonza.
The Lama film festival: cultural event on the theme of rural life. Tel: 04 95 48 21 05.
Music festival at Erbalunga: variety, jazz and guitares in the little village at Cap Corse.
Internet: www.festival-erbalunga.fr
LE 28 IEME - FESTIVAL DE MUSIQUE D'ERBALUNGA - DU 10 AU 12 AOUT 2016
Napoleonic Celebrations - Ajaccio
As well as the religious ceremonies associated with the assomption, Ajaccio celebrates its links with Napoleon Bonaparte. Grand procession, parade, spectacles in period dress, ceremonies commemorating the anniversary of the birth of Napoleon I and a pyrotechnic symphony over the bay of Ajaccio.
Tel: 04 95 51 53 03
Les Journées Napoléoniennes plongent les amateurs dans une ambiance proprement impériale. Défilés et parades, bien sûr, mais aussi un spectacle place du Diamant.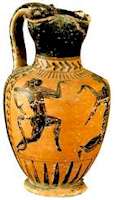 Festa Antica: Aléria at the cross-roads of civilisations - Aléria
Aléria invites its visitors to share in the 8000 year history of the town that at the time of the Romans was the capital of ancient Corsica. The inhabitants of Aléria dress up like their Roman ancestors, invinting anyone who so wishes to don historical costumes and take part in the two days of fetivities, with guided tours of historical and natural sites, Roman menus in the local restaurants(theme menus), costumed processions, Olympic competitions, play jousting, a large craft market, children's activities and musical entertainment.Tel: 04 95 57 01 51
Almond Tree Fair - Aregno Fiera di l'amandulu 8 and 9 August 2015
Craft and painting exhibitions, cookery competitions, concerts and children's entertainment are organised in the natural setting of the village of Aregno, with the fair's central theme of almonds also providing the subject for two conferences.
Rural Tourism Fair - Fiera di u Turismu Campagnolu - Filitosa: 1 and 2 August 2015
Craft fair: sale, tasting and demonstration of quality foods and craft wares. Musical entertainement and evening dance.

Ascent of Mont San Petrone - Campana
Ascent of the Mont San Petrone, with mass celebrated at the top of the mountain.
Settembrinu di Tavagna Music Festival
The Tavagna music festival is organised jointly by five villages (Peru Casevecchje, Velone-Olmeto, Taglio Isolaccia, Poggio-Mezzana and Talasani) in the Tavagna microregion.
The cosmopolitan programme includes evening performances by artistes from a variety of countries, and offers a successful blend of modern and traditional music.
Internet: Settembrinu di Tavagna
SEPTEMBER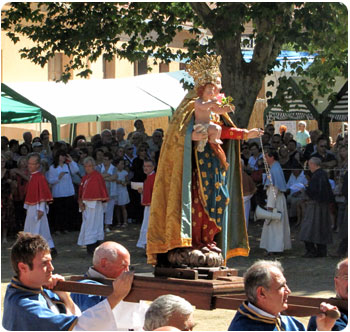 Niolu Fair and A Santa di U Niolu - Casamaccioli 8 september
Although originally a pastoral tradition, the Niolu fair now hosts many craft stalls. This is a major meeting for Corsicans, in particular because of its religious nature(being held on the feast of Santa di U Niolu). The fair is among the island's oldest.
Celebration of the " Santa di U Niolu ". Mass with traditional hymns. This fair gives place to cultural and traditional meetings in which take part, in abstract manner, groups and singers, famous or anonymous as well as lots of undiscoverd talent.
Notre Dame de Pancheraccia - Pancheraccia
Mary the Virgin appeared at the end of the 18th century, near this village, situated in the heart of the Haute Corse, in southern Castagniccia, between Corté and Aléria, after the Corsican people had elected her as their "Queen of Corsica" in 1736. Like Bernadette in Lourdes, a little girl saw God's mother there. Yearly mess on the 5th of august.
Fête de Notre Dame - Bonifacio 8 september
Festival of Our Lady. Stuffed aubergines" à la Bonifacienne" are prepared for this religious festival and handed out to those attending the ceremony.
Les Médiévales de Levie, 1,2 3 septembre 2023


Les Médiévales de Levie (sur Facebook)
www.medievalesdelevie.com
Festa di u Ficu - I Peri: 15 and 16 September 2018
Festi Acqua, Water Festival - Propriano
Water is Corsica's most precious resource, both in terms of its diversity (with the sea, lakes and rivers). Therefore it is only natural to hold a festival- the "Festi Acqua"- in its honour.
The programme features conferences, exhibitions, concerts and street entertainement creating areal festival atmosphere.
e-mail : jlm.is@wanadoo.fr
Porto Vecchio Fair - Porto Vecchio
This craft fair promotes the local economy through the various exhibitors.
Rencontres de Chants Polyphoniques de Calvi Festival of Polyphony
Corsica's polyphonic singing is one of the island's most popular cultural traditions. This festival has grown into one of the island's major events, where artistic expression provides a channel for us to celebrate the infinite diversity of our identities. For five days each year, polyphonic ensembles from all over the world(including Mongols, Inuits, Tibetans, South Africans, Cubans, Sardinians, etc..) perform in the heart of Calvi's Citadel. The various performances are held in the St Jean-Baptiste Cathedral, the Saint Antoine Oratory and the Place d'Armes.
webisite: www.balagne-corsica.com
e-mail: svegliu@aol.com

U Mele in Festa - Murzo Dimanche /Sunday 25 September 2022
This fair encourages visitors to discover the local specialities and in particular Corsican honey, which has now obtained "Appellation d'Origine Contrôlée" status.
Corsican honey: Take a taste!
Result of an ancestral know-how, endemic vegetation and a specific bee, on the island honey is a typical product on the same level as meat or cheese. It was one of the first products of the Corsican gastronomy to receive the AOC in 1998 and AOP in 2000.
With six amber shades and six subtle flavors, from mild to bitter, sometimes delicate and sometimes persistent, Corsican honey 'Miel de Corse-Mele di Corsica has the advantage of knowing to please all and to seduce even the least fan of honey.
Miel de Corse
Mele in Festa - la Foire
OCTOBER
Bastia Music Festival - Bastia
The "Musicales of Bastia" festival gives pride of place to the songs and music of the deep south. Every strand of southern music is represented, from baroque to world music, jazz and blues, and of course singing. Prestigious performers, surprising meetings, budding talents, unsual performances and Corsican creations always feature heavily.
e-mail : musicalesdebastia@wanadoo.fr
MARE IN FESTA
"Mare in Festa" clôture la saison estivale en beauté. premier weekend en octobre.
Internet: www.visit-corsica.fr/fr/infotour/evenmts_manifs/id/253
NOVEMBER
Apple and natural produce festival - Bastelica
This event is organised in recognition of the apple and its special qualities, with two days of discoveries, relaxation and tasting. Visitors are encouraged to 'sink their teeth into'the natural apple juice, apple jelly, fruit confetionery, jams and dried fruits. The finest charcuterie produced in the Prunelli Valley and Craft displays also feature at the festival.
Chestnut Blossom Festival - Evisa
To promote the products of the chesnuts economy, such is the objective of the organizers of this demonstration whose spearhead is the chestnut of Evisa " Insitina " varieties of chestnut offering the characteristic, in addition to its distinctive value, not to present any bulk-heading. In addition the mushroom is associated with this festival.
DECEMBER
Festa di a nazioni le 8 décembre


Rappelons que lors de la cunsulta d'Orezza du 30 janvier 1735, les patriotes corses avaient placé l'île sous la protection de la vierge Marie.
Ils décrétaient également que le 8 décembre, jour de l'Immaculée conception, est considéré comme fête nationale et que le Diu vi salvi Regina soit l'hymne de la nation Corse.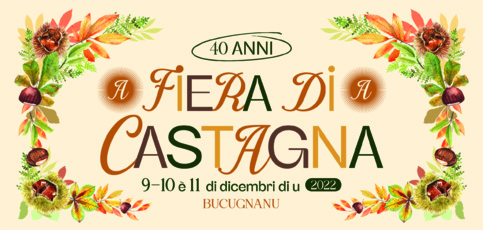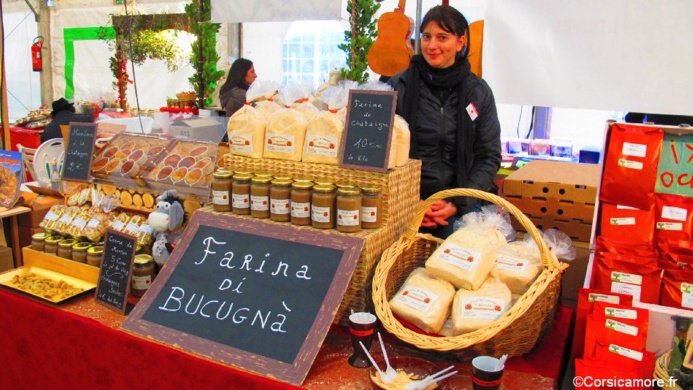 Fiera di a Castagna 9, 10, 11 decembre 2022 - Bucugnanu
The chestnut fair is considered to be Corsica's largest regional fair.
The chestnut and its different uses are honoured on this occasion, and there is a regional chestnut flour contest.
Foyer rural de Bucugnà "U Castagnu"
Route de la Gare - 20136 Bocognano
Tel/Fax: 04.95.27.41.76
la Fiera di a Castagna est la vitrine d'une production agricole et artisanale de qualité issue de tous les territoires ruraux de Corse, elle reste innovante dans leur valorisation. En effet, la crêation de la filière châtaigne, la présentation d'outils nouveaux tels que séchoirs à air chaud, moulins et depuis quelques années la multiplication de plant de chàtaigniers de variétés locales et leur vente sur le champs de foire, initiative dans le principe reprise par a Festa di u ficu, a Fiera di l'Amandulu, et le groupement des producteurs de châtaignes dans leur démarche de reboisement en sont la preuve.
email: bucugna@orange.fr
Internet: A Fiera di a Castagna